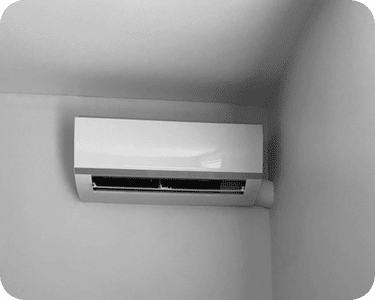 Installing A Mini Split System Into A South Philly Townhome
October 25th, 2022 at 3:13 PM
Installing A Mini Split System Into A South Philly Townhome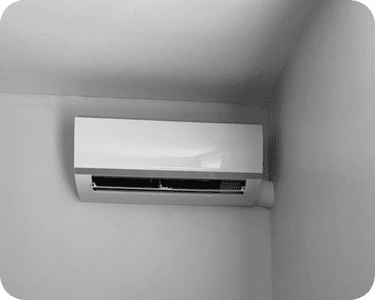 Philadelphia is a great place to live- especially in South Philly, where the Italian Market brings fresh produce and amazing food vendors together. It\'s the heart of where every restaurant in town sources the best meats, cheeses, and produce. The history of the area also means that many of the older homes and townhomes were built before central heat and air- so they don\'t have any ductwork, and heating and cooling these homes can be expensive!
Problem: Owners of a South Philly Townhome were relying on window air conditioners to try to keep cool in the summer, and their heating system was suboptimal. They were looking for a new system that would bring them comfort on every floor of their home, but not break the bank on energy bills.
Solution: A four-zone Carrier Ductless system will ensure every inch of this townhome is perfectly comfortable year-round- and they get the use of their windows back as well!
The owners of a townhome in the area needed to upgrade their home comfort. They gave us a call here at Synergy3 to see what we could do to make their home more comfortable year-round without costing them an arm and a leg on energy bills.
Read More: How Much Does A Ductless Installation Cost?
Window Air Conditioners Are Inefficient and Expensive!
The homeowners were relying on window air conditioners to try to keep cool during the summer- which is a real challenge here in the Philadelphia area. Not only do window a/c units take up your limited windows- and light- for a good portion of the year, they are also loud, noisy, and inefficient. They really jack up your monthly energy bills as well! Window AC units are a pain to install and then store properly during winter. And if you don\'t store them properly, they\'re prone to developing mold and mildew, which then can get you sick when you put them in next season. Who needs that?
In this townhome, it was also hard to get the window units to adequately cool all areas of the home- so some levels would stay too hot, while other areas were marginally comfortable.

Year-round comfort with Lower Energy Bills
When our expert team from Synergy3 came out, we knew we could recommend a great solution that could provide year-round comfort with heating and cooling on each level of this townhome. Heating a cooling a townhouse can be tricky because of the multiple floors, and it causes just as many problems when it comes to heating. Because the rooms are stacked one on top of another, there\'s not a lot of airflow between floors, meaning one area can be broiling hot while another is freezing, depending on the season!
We knew we would need to design an energy-efficient system that would keep the homeowners comfortable on every level, no matter what Mother Nature dished up outside- and we knew right away a Carrier Ductless system, with four zones would provide the homeowners with the comfort they craved at a price point they could afford- both for installation and for operation.
Ductless To The Rescue!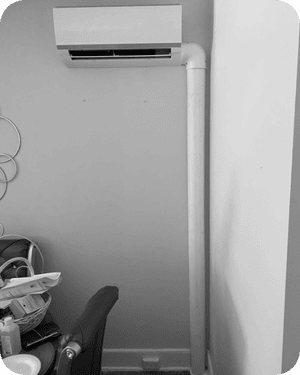 Carrier ductless, also known as mini-split systems are high-efficient heat pump systems that use state-of-the-art technology to help heat AND cool- your spaces, distributing the air throughout the space, eliminating the hot and cold spots you get with traditional radiators, window air conditioners or portable heaters. By providing both heating and cooling in one system, you can make sure your rooms are comfortable no matter what time of year it is, simply adjust the temperature with the touch of a button on the convenient remote, or even from a smartphone app if you choose!
Read More: How Does Ductless Work?
Better Efficiency Means Greater Comfort For Less Money
The systems are called mini-splits because they are made up of two parts- an outdoor condenser unit, and indoor "distributors"- often called cassettes or heads, that are usually hung on a wall, up out of the way. The sensors in the heads monitor the temperature and humidity in the room and make small adjustments to deliver consistent comfort- using the minimum amount of energy needed to do so. As a result, these high-efficiency heat pump systems can be 70% more efficient in heating and 30% more efficient in cooling than traditional systems, meaning you spend a LOT less money on energy bills while enjoying better comfort, no matter what time of year it is!
No Ductwork Means Less Construction And More Flexibility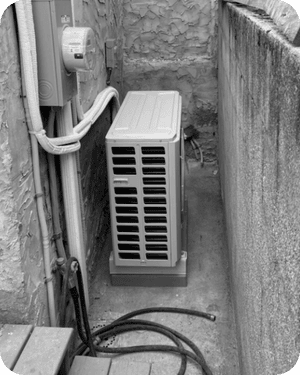 Because Carrier Ductless systems don\'t require ductwork, that means less construction and more flexibility about where to put the units so they can deliver the maximum comfort while minimizing the impact on the living space. As you can see from the pictures, the units are mounted up out of the way so the sensors can better monitor the temperature and humidity in the room and deliver the hot or cool air exactly where it\\'s needed, providing even comfort throughout all aspects of the space.
Our team and Synergy3 designed a four-zone system using Carrier Ductless. One outdoor condenser unit can power up to 9 indoor units, but in this case, a 4 zone system was perfect to deliver comfort on every floor of this townhome. Positioned in key living areas including the bedrooms means each zone can be adjusted to deliver the comfort you need when you need it- maybe making it a little colder to sleep more comfortably, while adjusting the temperature at night to save energy in the other areas of your home.
This quad zone system finally helped make our South Philly townhome owners comfortable while not breaking the bank. And because of the added efficiency of Carrier Ductless, the homeowners also qualify for money-saving rebates from PECO! Now that\'s news everyone can use, especially now!
Ductless Mini Split Installation In South Philly
If you have an older home that\'s just not as comfortable as you like, or if you are still trying to get by with window air conditioners, give us a call here at Synergy3. Our skilled team and black-glove service will come out and help make recommendations to bring you the added comfort you crave, while also saving you money every month on your energy bills!